Will you help Mia the elf girl save the Kingdom of Centopia?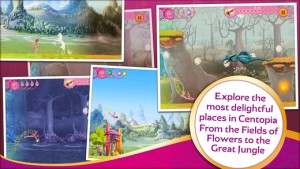 Life in beautiful Centopia is threatened by the evil Queen Panthea – it's your mission to stop her wicked plans and protect the happy life of Centopias Elves and Unicorns. You need to collect as much Unicorn dust as possible and assemble the Trumptus instrument, but watch out there might be obstacles on your way!
– Collect unicorn dust to heal the country and to buy great boosts that can help you on your quest to save Centopia.
– Once you have collected Unicorn dust you can go to the boost area shop and buy helpful boosts.
– Assemble the mysterious Trumptus instrument and use it in the final battle against the wicked Queen.
– Have fun shooting your waterglare at the army of muncs and dragons you meet.
– Explore the exciting fairytale land of Centopia – from the Fields of Flowers to the Great Jungle.
– Maybe you already know "Mia and Me" from TV? Now you can meet Mia and help her save Centopia right here on your iPad!
– Mia and Me is a side scroller game for girls in the age of 5-8 years and is based on the TV-series "Mia and Me – It's Another Reality".