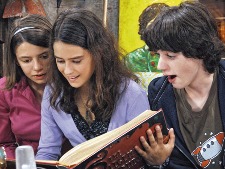 Höhenkirchen/Munich, 21st May 2012:
On 13th May 2012, at the 19th Stuttgart Festival of Animated Film (ITFS) – one of the largest and most significant festivals for animated films worldwide – a children's jury awarded the prize for the best animated series for children to the "Mia and me®" series, developed in Germany by Hahn Film and m4e. The series, already having received the Licensing Challenge Award 2011 at MIPCOM in Cannes, thus continues its impressive international triumph.
"Mia and me®" is a production of Lucky Punch GmbH – a joint venture between m4e AG and the innovator of the series, Gerhard Hahn. The series, with its high-level computer animation, is coproduced by Rainbow S.r.l. of Italy, and Canada's March Entertainment, as well as by the ZDF German Television Network. The German TV premiere is on 6th August 2012 at 19:00h on the KiKA children's channel. The series has already been sold internationally in more than 50 territories.
"We are delighted and proud to discover that our series has been very well received not only by the trade audience and international broadcasters – but now also with considerable enthusiasm by the immediate target group: the children themselves", commented the producer of the series Hans Ulrich Stoef, CEO of m4e AG. Gerhard Hahn, who with his Hahn Film AG has already had successes with "Werner – Beinhart", "Benjamin the Elephant", "Bibi Blocksberg" and "School for Vampires", commended  the  collaboration  with  the  marketing  professionals  of  m4e: "The  success  of "Mia and me®" is essentially attributable to the synergy of creativity at Hahn Film and the marketing expertise of m4e". The successful collaboration between these companies, according to Hahn and Stoef, is to be continued with further topics.