NEW! Your Mia and Me Magazine is here!

EXTRAS: Mia Lip Gloss + 44 Glitter Stickers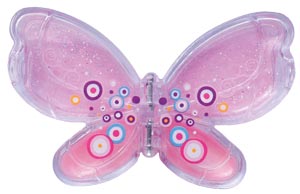 Your official fan magazine is here! Come with me in the magical world of Centopia.
Discover the first images of the second season, and see the first exclusive story details in your fan magazine. In addition Onchaos father waits exclusive, only in your fan magazine, the second part of the love story of Lyria and Ono. Moreover, there is a large "Mia and Me" Summer Sweepstakes and you can win many magical Fanprodukte. Get in the 3rd part of the magical beings of Centopia. All about the magical elves and collect the first profile for your elves album. This Mia can send messages to their friends that only she can read, she has come up with a new cipher. Mia show you how the magic points alphabet works, so that you can send secret messages!
This time, wait again great mystery elves, a magical coloring page, 2 magic XL poster and 2 fantasy poster for you. Try your luck! Your Mia-Extra: As a magical extra, there are a butterfly lip gloss in two great colors. There are 44 Glitter Stickers!