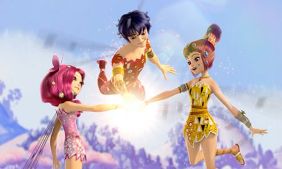 m4e and Rainbow inked a number of new deals for it's eagerly anticipated new television series.
Höhenkirchen/Munich, 16th January 2012:
The German brand management and media company m4e AG, it's subsidiary Telescreen B.V. and it's co-production and distribution partner Rainbow S.r.l. from Italy have secured new broadcast agreements for it's hybrid production "Mia and me" (26 x 23'). m4e and Telescreen have inked agreements with Nickelodeon for free- and pay-TV broadcast in the Benelux and pay-TV in Scandinavia. Further free-TV deals have been signed with DR for Denmark, MTV3 for Finland, TV2 for Norway and ULTRA for Bosnia and Herzegovina, Croatia, Macedonia, Montenegro and Serbia. For Slovenia, broadcaster POP snapped up the series. Pay-TV rights were sold to Finland's MTV3 Juniori and Minimax TV in a multi-territory deal for Eastern Europe including Albania, Bosnia and Herzegovina, Bulgaria, Croatia, Czech Republic, Hungary, Kosovo, Macedonia, Montenegro, Romania, Serbia and Slovakia. The TV-launch of "Mia and me" in all regions is planned for mid of 2012.
For Latin America Rainbow has signed a deal with the leading broadcaster Televisa for a launch in2012. In Asia OKTO/Singapore, RTM/Malaysia and MT Entertainment/Indonesia have been added to the continent's broadcast partners.
Previously the rights have already been granted to ZDF for Germany who is also a co-producer of the series as well as Rai for Italy, TVI for Portugal, Canal+ for French pay-tv, Tiga for Thailand and E-Vision for UAE.
Further broadcast, home video and licensing deals for all continents are in final negotiations and will be announced shortly.
"Mia and me" is a unique hybrid of live action and anmiation focusing on unicorns and elves. The property continues to expand beyond TV into home entertainment and the world of consumer products and has received huge international attention due to winning the 2011 Licensing Challenge Award at MIPJunior/MIPCOM and being the most requested programme at 2010's MIPJunior.
"Mia and me" is a production of Lucky Punch GmbH – a joint-venture between m4e AG and Professor Gerhard Hahn from Berlin's Hahn Film AG. It is co-produced by Rainbow S.r.l. from Italy and March Entertainment from Canada, as well as by ZDF German Television Network.