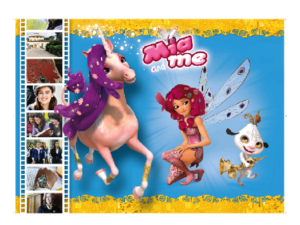 Ahead of MIPTV, m4e AG and Rainbow Srl have secured a number of new international broadcasting deals for the hit TV series "Mia and me". While Rainbow has signed free-TV deals with Clan TV for Spain and RTBF/OUFtivi for Belgium, the m4e subsidiary Telescreen BV sold the series to Yoyo TV for Hongkong, Macao, Singapore & Taiwan, KBSN for South Korea and Kazakhstan TV.
The series already airs successfully on ZDF/KiKA for the German-speaking region, RAI Gulp (Italy), Nickelodeon (Benelux, Nordic), Minimax (Eastern Europe), TV2 (Norway), DR (Denmark) and RCTI (Indonesia) among others. 26 new episodes for a second season are currently in production, scheduled for delivery by end of 2014. The first season has been sold to moren than 70 broadcasters worldwide.
"Mia and me" is also heading further into more territories for licensing & merchandising, as Rainbow and m4e also appointed new licensing agents with Exim for Latin America, Wild Wild Pumpkin for Australia & New Zealand, PopCorn for Portugal and Point of View for Israel.