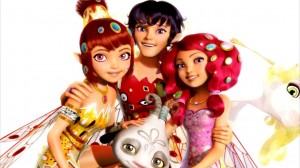 The German m4e Group has sold the nordic home entertainment rights for the hit TV-series Mia and Me to Svensk Filmindustri, the leading video distributor for this region. The contract includes all home entertainment rights including digital distribution on video-on-demand platforms.
In addition, distribution- and co-production partner Rainbow S.r.l. has inked a substantial pay-TV contract with Nickelodeon for South Asia, including Hongkong, Indonesia, Macao, Malaysia, Myanmar, Philippines, Singapore, Taiwan, Thailand and Vietnam. Mia and Me is planned to go on air in these territories in July 2013.
The series is broadcasted successfully around the globe already: OUFtivi, the children's channel of RTBF Belgium, reports ratings almost 100 per cent above channel average. In Portugal, Mia and Me is the best girl's TV-series on pay-TV channel Canal Panda, with ratings almost four times higher than channel average. The series is also well received in the UAE, continuously holding top positions in broadcaster e-junior's online votings.
26 new episodes for a second season are currently in production, scheduled for delivery by end of 2014/spring 2015. The first season has been sold to more than 70 broadcasters worldwide.