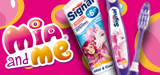 Höhenkirchen/Munich, 2nd May 2012:
From June 2012, Unilever, one of the largest manufacturers of consumer goods worldwide, will be marketing the dental-care products of its successful children's brand Signal Junior with the main characters from the TV series and licensing brands "Mia and me" and "Beyblade". Licensing promotion for both topics was initiated by m4e AG with Unilever and covers Germany, Austria and Switzerland.
Motifs from "Mia and me" and "Beyblade" can be found on the Junior toothbrushes and Junior toothpastes of the dental-care brand Signal, which has successfully been established in the market since 1961 with a variety of products. During the last few years Unilever has relied time and again on the attraction of convincing entertainment themes for its dental-care products for children, in order to thus make toothbrushing a playful experience for children. This is because motivation for dental hygiene and high-quality products appropriate for the age-group are the magic formula concerning children's dental-care, in order to firmly anchor dental hygiene as an everyday ritual in one's daily routine, thus a bathroom-grumbler will quickly become a committed tooth brushing expert, and tooth decay won't stand a chance.
Analogous to the preceding years Signal is undertaking several activation measures, such as for instance a broad PR and online campaign.
While the "Beyblade" series in the last two years has already become very successfully established on the Nickelodeon broadcasting channel, "Mia and me" gets started in August 2012 on the German children's channel KiKA. The 26 episodes of the first season will be broadcast on weekdays at 7:00pm from 6th August onwards.