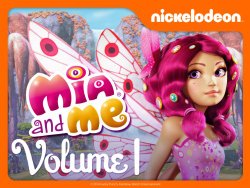 1. Talking to Unicorns Mia makes friends with Centopia's royalty and discovers she possesses a unique skill: talking to Unicorns. Soon she is going to clash with general Gargona and her unicorn-hunting army.

2. Centopia's Hope In Centopia, Mia discovers Phuddle's dissonant Trumptus is more than meets the ear. Thanks to her help, the elves have a new reason to be hopeful.

3. Restoration Mia tries to help a befuddled Phuddle: he's taken apart the Trumptus, and can't find his original blueprints! They'll have to figure it out before it's too late for all of Centopia.

4. Trumptus Lost The grim oracle from Centopia book leads Mia to rescue Lyria in the Valley of Vapors, where she becomes lost. Though Yuko and Mo find her in time, the Trumptus is left behind for Panthea to fulfill the ominous prophecy.

5. The Golden Son Still unsure if she can trust Vincent, Mia disappears to Centopia in time to find Lyria in need. She also witnesses an amazing event: the birth of a golden-horned unicorn who may be the key to restoring hope to Centopia.

6. Onchao's Oasis The excitement over Onchao's ability to restore dead lands and Trumptus pieces is short-lived when Lyria is taken captive by Gargona and her Munculus army. A newly determined Mia vows to protect Onchao with all her might.

7. Hope in Pieces Now that her mother Lyria's gone, Onchao's bored, lonely and lost. Though Mia is desperate to cheer him up, she soon finds herself in a sticky situation and only the despondent Onchao can help.

8. Ziggo's Day Off Mia is needed again in Centopia. There, she and the elves find a Trumptus piece in an incredible hanging flower garden. But when Gargona shows up and swipes it, they'll need to do some tricky negotiating to get it back.

9. The Elves and the Dragon Ever curious, Onchao finds a dragon egg instead, and makes fast friends with the newly hatched dragon. But he's captured — along with the Trumptus piece — driving Mia and the elves to attempt a daring rescue.

10. The Blossom Tree The unicorns visit the Blossom Tree for their annual feast, but they'd be too exposed to danger. When the stubborn unicorns refuse to listen, the elves must enlist the help of the reclusive but awesomely powerful Earth Unicorn.

11. All that Glitters In Centopia, Mia can deal with less worrying dilemmas (than kissing Vincent for a drama session) — like slimy snake salesmen, hordes of Munculus on dragons' back and a dark cave said to be filled with treasure.

12. Phuddle's Foibles In Centopia, Phuddle tags along on her excursion to the murky, overgrown Lofty Caves. Phuddle desperately wishes to be an elf, even fashioning himself some crude wings. Will he prove helpful, or just a nuisance?

13. The Fire Unicorn Onchao is getting ready for a show of his own: a special ceremony inside a volcano, presided over by the fearsome Fire Unicorn. But when Yuko and Mo are captured by Muncs, Mia has to intrude on the ceremony to get Onchao's help.