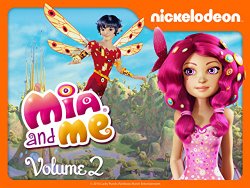 1. The Wizened Woods Mia and the elves search for a piece of the Trumptus in the forest. They soon find that the eerie voices in the woods are not what they seem to be — and that Panthea has her own peculiar interest in this spooky forest.

2. Miss Know-It-All Mia has a much more dangerous scrape with deception, after a Tell-All creature acquired from the sneaky salesman Polytheus leads Mia and the elves into a treacherous trap. Mia will have to be clever to escape this one.

3. The Unicorn Trap In Centopia, Panthea is plotting a way to capture the golden-horned Onchao. Being isolated from his own kind makes him particularly lonely, so Panthea and Gargona devise a foolproof plan: building a kind of "Trojan unicorn" to lure him in.

4. All Dressed Up After having jumped to Centopia, Mia finds out that the elf girls are all getting ready for the Blushflower Princess Ball. Mia soon finds herself competing against Yuko for the crown — and for Mo's attention.

5. King for a Day While the king and queen have the flu, Mo has been given the duty of ruling Centopia. But when Mia and Yuko are cornered by Gargona and her Munc minions, Mo must leave his post and find a way to return them to safety.

6. The Panned Piper Phuddle has created a strange new instrument: a calliope that draws in and mesmerizes its listeners. Unfortunately, it seems to be attracting the wrong kind of attention. And Mia will try to find a solution.

7. Cave of Truth Mia heads to Centopia — and gets whacked in the head. With her memory lost, she and the elves try to regain it at the mystical Cave of Truth. But once inside, they might learn some truths they don't want to know.

8. Against the Wind Mia forgets the Butterfly Ring getting to Centopia. Once there, Mia gets caught in a strong headwind that blows her far away from her friends. Lost in the remote badlands with a broken wing, she must find a way to survive.

9. Under the Moon Yuko tries to get some quiet time alone with Mo, but she's frustrated with Mia's constant interruptions. Yuko does her best to ditch Mia, but when she and Mo are trapped by a landslide, they'll need Mia's help more than ever.

10. Choosing Sides Centopia calls again, sending Mia and the elves on an expedition to the watery domain of Polytheus. He's got a piece of the Trumptus, but the tightfisted trader won't give it up without a price.

11. Tears of Joy A severe drought is afflicting Centopia citizens, thanks to Panthea's wanton destruction. To stop her reign, Mia and her friends must redouble their efforts to rebuild the Trumptus and free the captured unicorns.

12. Panthea's Proposal A frenzied Panthea has led her entire army to the dried-up Waterdome, demanding they give up Onchao. However, this is Mia's chance to find the last Trumptus piece, hidden in Panthea's now vacant palace.

13. The End of an Age When Mia, Vincent and Paula see ominous images in the book, it's clear Mia's needed in Centopia. She returns to find Yuko and Mo captured by the Munculus. She must find a way to get the last Trumptus piece and save Centopia.